May is the Mental Health Awareness Month
I asked my dear friend, Kristi Hugstad, the author of Beneath the Surface, to write a blog for us to honor this month. The UCI Counseling Center will be hosting two events this month:
1) viewing of "The S Word" documentary on May 14 from 4:00 – 5:30 PM at the Cross-Cultural Center Ring Room.
This documentary is followed  by an open discussion about suicide without judgment, shame or discrimination
2) The 2nd Annual Art of Healing Showcase and Counseling Center Open House on May 16th from 5:00-6:30 PM at Student Services 1, Room 203. Light refreshments will be served.
Anxiety and depression: an epidemic among college students
Despite what you've seen in the movies, there's more to college than Greek Week and beer pong. In fact, "the best years of your life" (as so many college graduates like to say) can be tough on anyone. You're juggling class schedules, homework, work, extracurricular activities like sports or music – all at a time when you're (most likely) on your own for the first time. Sure, college life is exciting, but it can also be a really stressful and confusing time.
Ask anyone – or one out of five students, anyway. That's how many college students suffer from anxiety or depression. As I've traveled the country speaking to teenage students, I'm often hit by the reality of how much you have on your plates – and how much you carry on your shoulders (and in your brains).
While bouts of anxiety or depression can be normal – like the anxiousness you feel prior to a test or try-outs, or the sadness you experience after a breakup – if these feelings are prolonged or become intense enough to interfere with your daily life, it's time to get help.
Why me?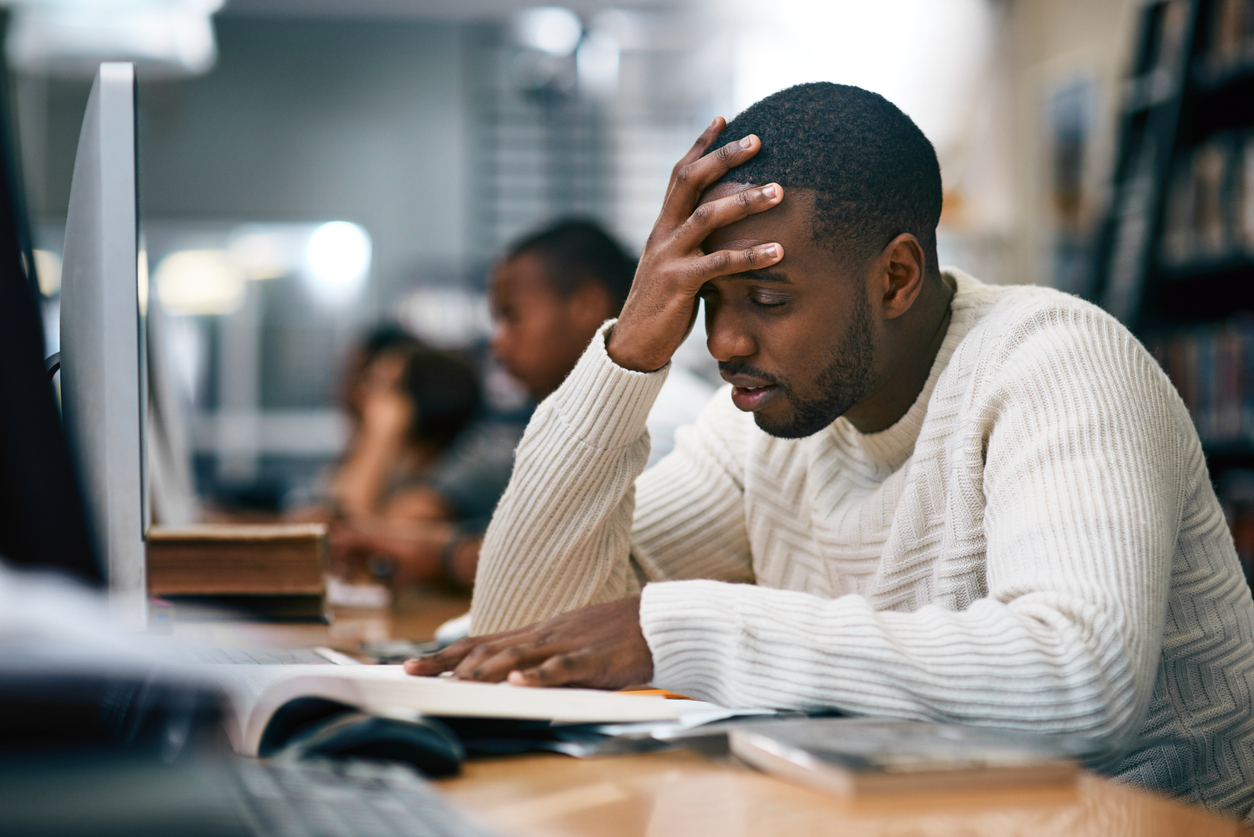 Anxiety and depression are becoming much more commonplace on college campuses. But why is your demographic suffering so much? We can likely blame several factors –the loneliness and fear of being independent for the first time, pressure from parents, coaches and yourself to perform well, financial difficulties, romantic drama and bullying or peer pressure to name a few. Add to that the abundance of drugs and alcohol on college campuses and the fact that mental illness often manifests in adolescence and early adulthood and its easy to see why so many students struggle.
Does this sound familiar?
You could be juggling the stress of college beautifully. But don't beat yourself up if you're not. Either way, it's critical to be open and honest with yourself about how you feel – and to ask for help when you need it. If you're experiencing any of these symptoms of anxiety disorders, it's time to talk to a professional.
You're often nervous or feel tense
Your heart beats rapidly
You hyperventilate
Your muscles twitch
You can't sleep well
You have frequent stomachaches
You get obsessed with certain ideas or worries
You have trouble focusing
You're experiencing heart palpitations
You shake or tremble for no reason
You have irrational fears
You think you're going crazy
You're afraid you might be dying
Anxiety can often go hand in hand with depression, but you can certainly experience one without the other. You may have depression if you recognize any of these symptoms:
You feel listless or lethargic often
Your muscles are inexplicably sore
You are having trouble sleeping, or you sleep too much
You've lost interest in things or activities you once loved
You've isolated yourself from friends or loved ones
You often feel sad, empty, helpless or worthless
You don't care as much about school or grades as you once did
You don't eat as much as you used to – or you eat much more
You can't concentrate
You're experiencing thoughts of self-harm or suicide
Both depression and anxiety can be scary – on or off a college campus. That's because mental illnesses, by definition, distort your thinking. They create a false reality in which you're fearful, worthless, incapable and undeserving of all the good life has to offer. And when your own brain is telling you that, it's really easy to believe it.
The good news is, like any illness, anxiety and depression are both treatable. Therapy and/or medication can help you feel like you again. If you think you may have anxiety or depression, talk to your doctor or a medical professional.
The truth is, anxiety and depression likely won't just "go away" on their own. That's why it's critical that you recognize the issue and work toward coping with the symptoms and/or treating any underlying causes. My new book, Beneath the Surface, explains how anxiety and depression affect your brain and your life, offering real, tactical methods to treat it as well as resources for getting the help you need. For more information, visit www.thegriefgirl.com.
If you have feelings of self-harm or suicide, you can call the National Suicide Prevention Lifeline 24/7 at 1-800-273-8255.
About the author: Kristi Hugstad is an author, speaker, certified grief recovery specialist, credentialed health educator, host of "The Grief Girl" podcast and "The Grief Girl" OC Talk Radio show, blogger for Huffington Post.